The AMA Food Pantry is supported by the Allen Ministerial Alliance which is made up of Christian churches in the communities of Allen, Fairview and Lucas Texas and operates as a strict non-profit organization that is 100% Volunteer based.
We serve those in need of food, including those out of work, Grandparents caring for grandchildren of unemployed children, soldiers returning from deployment unable to find a job, and others who find themselves in financial difficulty. If you ever find yourself struggling to feed yourself and your family please come by the food pantry when we are open.
We are located at 1515 N. Greenville Ave, Allen TX behind St Jude Catholic Church. The building is in the parking lot on the southwest corner of the property. Although we are hosted by St Jude Church, we are not a function of the church. Please do not contact the church about food. Instead, please stop by the food pantry when we are open.
We are open Monday and Thursday from 6:00PM – 8PM and Tuesday, Friday and Saturday from 9:00AM – 12:00PM
We are closed on all major holidays and during inclement weather typically in conjunction with school and church closings.
The AMA Food Pantry serves the communities of Allen, Fairview and Lucas TX. But we never let anyone leave empty handed.
We are open 5 days a week
Tuesday, Friday & Saturday: 9:00AM – 12:00PM |Monday & Thursday: 6:00PM – 8PM and we are closed on Wednesday and Sunday.
WE CAN ONLY OFFER WHAT HAS BEEN DONATED
Jesus answered, "It is written: 'Man shall not live on bread alone, but on every word that comes from the mouth of God.'"
All new clients must complete an application form. The application asks for contact information and the names, ages and birth dates of each person living in the household. Each client will also be asked for proof of residence so you must bring with you a PICTURE ID such as a drivers license a UTILITY BILL or a REPORT CARD or SCHOOL identification card.
Download, print and fill out one of the applications below, if you cannot print one then come by when we are open and we will give you one. Drop it off anytime we are open. We will give you an emergency bag of food and will add you are a resident of Allen, Fairview or Lucas.
USDA National Hunger Hotline
Homeless and Community Family Resources
For services in Collin County, Dallas county and surrounding counties visit the following link. *Thank you Allen ISD!
2. After you have submitted your online application please allow our administrators 2-4 days to review your information and get back to you with further instructions which will include signing up for training classes and other information.
If you have questions or concerns please email us at info@allenfoodpantry.org
We ask that all children who attend the training must be 12 years of age or older and parents must attend with them.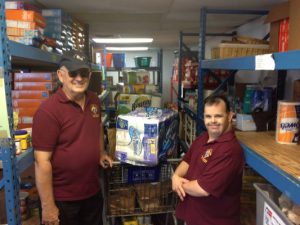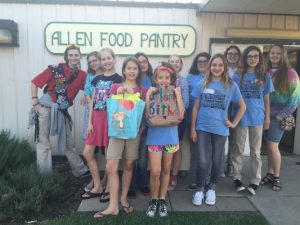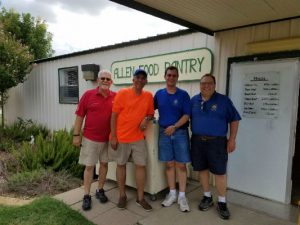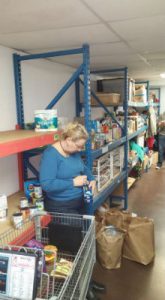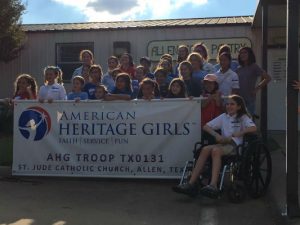 PARENT'S AND TEENS!
PLEASE DO NOT WAIT TILL THE LAST MINUTE TO GET SERVICE HOURS FOR RELIGIOUS OR ACADEMIC PURPOSES.  WE ONLY HAVE ENOUGH ROOM TO ACCOMMODATE 3 TEENS PER SHIFT. START IN THE FALL FOR SPRING DEADLINES!!
If you are 16 or 17 and need service hours for academic or religious purposes you are welcome to stop by the pantry during normal business hours, it's important that you arrive early; for teen volunteers it is a first come first serve basis. Please have a parent sign a consent form before arriving.
All teens who are seeking COURT ORDERED community service hours must be accompanied by a parent. Parent's please DO NOT drop your children off and leave! You as their parent must serve in the Food Pantry with them. We will not sign off on any court ordered documents if a child is left at the Food Pantry to serve by themselves.
Children between the ages of 12 and 16 must be chaperoned by a responsible adult. In order for your child to become a volunteer with the Food Pantry, we need your consent and involvement in helping them have a productive experience.
Families with children between the ages of 9-12 who are wishing to serve are encouraged to do so as a family and we encourage you to serve together. CHILDREN MUST BE ABLE TO READ AND WRITE.
"Let us not become weary in doing good, for at the proper time we will reap a harvest if we do not give up."
To make a monetary or memorial donation to the Allen Ministerial Alliance Food Pantry choose from the options below.
Make a secure online donation with Authorize.net
by clicking the button below.
OR mail a check to the address below.
Allen Ministerial Alliance Food Pantry
1515 N. Greenville Avenue
Allen, TX 75002
Attn: AFP Business Office
Make checks out to Allen Ministerial Alliance Food Pantry
Items generally needed/collected at the food pantry are as follows:
Food Items: Peanut Butter, Jelly, Can Soups, Spaghetti Sauce, Canned Chicken or Turkey, Chili, Canned Fruit, Canned Beans, Dry Beans, Rice, Cereal, Oatmeal, Macaroni and Cheese, Meal Helpers, Boxed Potatoes and Crackers.
FRESH PRODUCE IS A LUXURY SO A BAG OF APPLES, ORANGES OR POTATOES IS LIKE GOLD!!
If you have a home garden and at anytime have more than you need we will happily share it with our clients!
Toiletries: toilet paper, paper towels, shampoo, conditioner, toothpaste, toothbrushes, dish soap, diapers and feminine products.
You may bring donations to the food pantry during normal business hours or for small donations, there is a drop box located outside of the food pantry that is emptied daily.
We always need and welcome sponsors to help subsidize our program costs.
School Kids Emergency Assistance
Our School Kids Emergency Assistance Program provides emergency food assistance to Title 1 schools in the area. These bags are handed out by the school counselors during the school year. The bag has enough food to get them through a weekend or holiday and a note encouraging them to come to the food pantry.
Summer Food Program
Many low income families have children who receive 2 free meals each school day. During the summer months, we provide a small bag of kid friendly foods for each school aged child in the family. We always need easy to open cans of fruit, healthy snacks and small individual servings of peanut butter.
We always have the opportunity to share the Word of God with children and families and are always looking for new ways to share his word.
If you have an idea or a special way to help spread the Gospel through our donations please email us at info@allenfoodpantry.org
"The King will reply, 'Truly I tell you, whatever you did for one of the least of these brothers and sisters of mine, you did for me'".
The AMA Food Pantry is a non-profit ecumenical program which began in 1985 to provide emergency food assistance to those in need, such as persons who are waiting for food stamps, welfare checks or any number of family emergencies.
The Food Pantry is sponsored by the Allen Ministerial Alliance and is supported by various churches, businesses, community service organizations and citizens in Allen and the surrounding communities.
The pantry is manned strictly by volunteers from the various churches within the surrounding area.
The pantry board is made up of individuals from surrounding churches. They all began as regular volunteers. Board meetings are held once a month on the first Saturday of each month at various locations, sometimes remotely too. Board meetings are open to anyone who would like to attend. If you would like more information on our next board meeting please email us at info@allenfoodpantry.org
Our Board Members:
Joanne Jordan: St. Jude – President – Active volunteer for over 10 years.
Linda Federle: Christ the Servant Lutheran – Current Treasurer – Active volunteer for over 10 years.
Cheryl Lindberg: Christ the Servant Lutheran – Special Programs/AMA representative – Active volunteer for over 10 years.
Gwen Morgan: St. Sava Orthodox Church – Volunteer Coordinator – Active volunteer for 5+ years.
Jeannie Stebenne: St. Jude – Food Drive Coordinator – Active volunteer for over 10 years.
Junilla Collard: St. Jude – Second Harvest Coordinator – Active volunteer for 8+ years.
Wendy Semper: St. Jude – Buyer Coordinator – Active volunteer for 7+ years.
The Pantry is located in the South/West parking lot of St. Jude Catholic Church, 1515 N. Greenville Ave, Allen TX.
"The Allen Ministerial Alliance exists to promote spiritual growth, fellowship, social service and prayer among the Christian clergy, laity and churches in Allen and surrounding communities" (Adopted by consensus on 12/14/99)
Allen Ministerial Alliance Blog and Reporting
For Calendar Year 2018 There were 3,102 volunteer hours recorded for an average of 258 hours per month. We served 1267 families and a total of 5617 people. The breakdown was 4578 from Allen, 168 from Lucas, 93 from Fairview and 776 from Other. The Other Count of 776 can be broken down into –
Read More »
Therefore we ought to support such men, so that we may be fellow workers with the truth.